Al Jazeera journalist killed during Israeli raid in West Bank
Palestinian Prime Minister Mohammad Shtayyeh also blamed Israeli forces for the journalist's death.
"Shireen Abu Akleh contributed to forming the memory of an entire generation & telling the Palestinian story to the world," he said in a tweet. "Shireen was killed by the Israeli occupation while documenting their horrific crimes against our people. My sincere condolences to her family and colleagues."
The Israeli military said early Wednesday that its forces came under attack and returned fire while conducting "counterterrorism activity to apprehend terrorist suspects in the Jenin Refugee Camp." It said it was investigating "and looking into the possibility that journalists were hit by the Palestinian gunmen."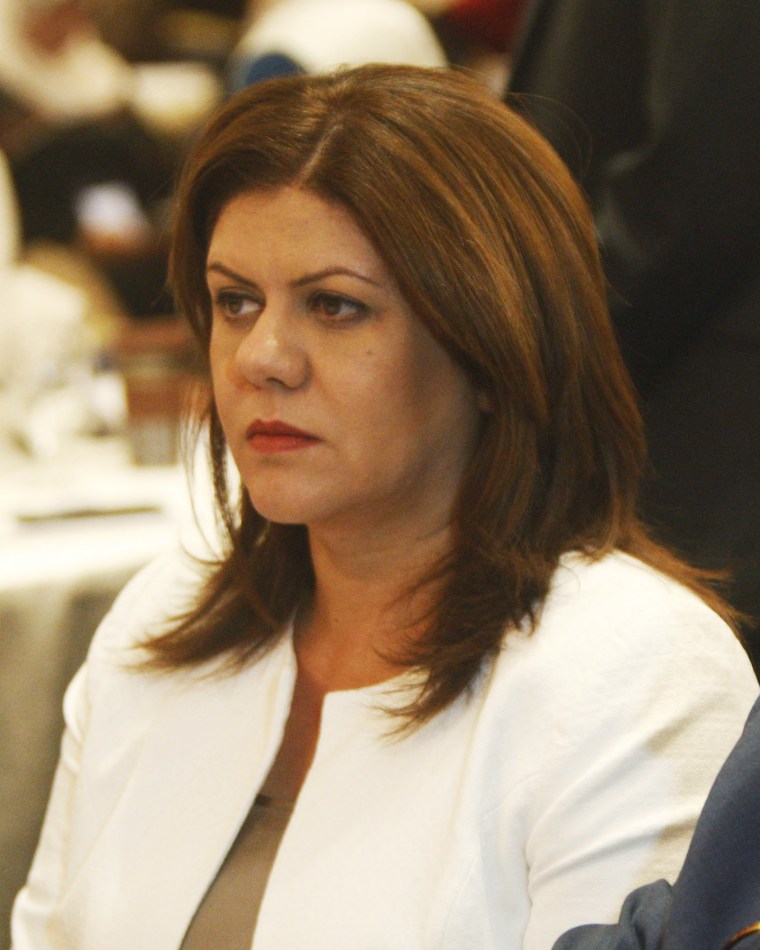 Israel has carried out near-daily raids in the occupied West Bank in recent weeks amid a series of deadly attacks inside Israel, many of them carried out by Palestinians from in and around Jenin.
In a statement published on Twitter, Israeli Prime Minister Naftali Bennett said that "it appears likely that armed Palestinians — who were firing indiscriminately at the time — were responsible for the unfortunate death of the journalist."
His office said Israel offered Palestinians a "joint pathological analysis and investigation, which would be based on all of the existing documentation and findings, in order to get to the truth." It said that so far, that offer had been refused.
NBC News has contacted the Palestinian Authority for comment.
However, Israeli army chief Lt. Gen. Aviv Kochavi later stepped back from the claim that Palestinian gunfire appeared to have killed Abu Akleh, saying that "at this stage, we cannot determine by whose fire she was harmed and we regret her death."
State Department spokesman Ned Price said in a statement: "We are heartbroken by and strongly condemn the killing of American journalist Shireen Abu Akleh in the West Bank. The investigation must be immediate and thorough and those responsible must be held accountable. Her death is an affront to media freedom everywhere."
Rep. Rashida Tlaib, D-Mich., condemned the Israeli government over Abu Akleh's death, writing in a tweet Wednesday: "When will the world and those who stand by Apartheid Israel that continues to murder, torture and commit war crimes finally say: 'Enough'?"
"Shireen Abu Akleh was murdered by a government that receives unconditional funding by our country with zero accountability," she said.
Ali Samoudi, another Palestinian journalist, was hospitalized in stable condition after being shot in the back.
He told The Associated Press that he was working as Abu Akleh's producer, with the pair among a group of reporters who went to cover the raid Wednesday morning. Samoudi said the group were all wearing protective gear that clearly identified them as reporters, and that there were no militants or other people in the area at the time of the shooting.
Abu Akleh's body is expected to be taken to Ramallah, the seat of the Palestinian government, before heading to Jerusalem for burial.
Her death comes amid weeks of escalating violence in Israel and the Palestinian territories, including the recent killing of three Israeli civilians in an ax attack last week and an order by Israel's high court to expel Palestinians living in an area of the occupied West Bank.
It also comes as President Joe Biden prepares to visit Israel next month, his first since taking office.
The Associated Press, Raf Sanchez, Paul Goldman and Lawahez Jabari contributed.