Putin marks Victory Day in Moscow
Putin links fight in Ukraine to World War II during Moscow military parade
In a show of pomp and pageantry, Russia is marking the Soviet Union's victory over Nazi Germany in World War II with its annual military parade in Moscow.
Rows of soldiers in ceremonial dress lined the street and Red Square with a large military band playing in advance of a speech by Russian President Vladimir Putin.
Hailing the day as a "triumph of our unified Soviet Union," Putin linked the current conflict in Ukraine with World War II.
"You are fighting for your motherland, for its future, so no one will forget the lessons of the Second World War," he told the troops, before observing a minute of silence. After speaking, Putin watched as military groups paraded past, holding their flags.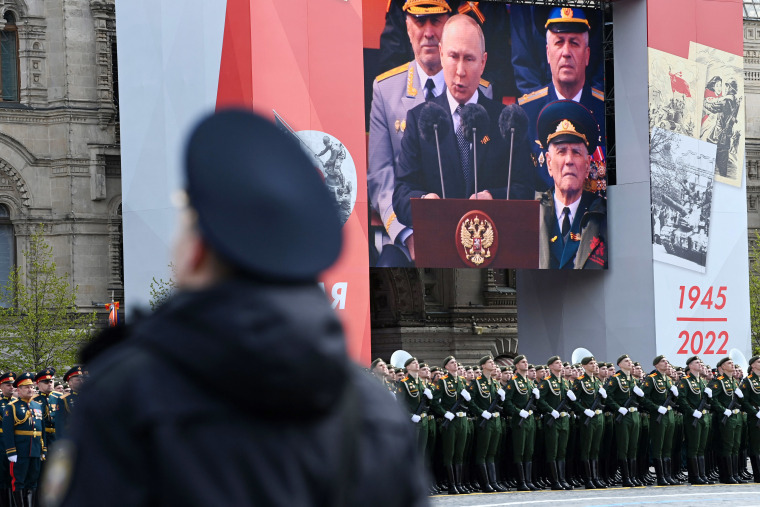 What Putin may be planning for Victory Day in Russia
Monday is shaping up to be a potentially pivotal day for Ukraine. 
Known as Victory Day, May 9 is a national holiday in Russia commemorating the Soviet Union's defeat of Nazi Germany in World War II, typically marked by an elaborate military parade in Moscow's Red Square surveyed by senior Kremlin officials.
Western officials have voiced concerns that President Vladimir Putin will use the occasion to officially declare war on Ukraine or otherwise escalate his military campaign. But experts say that after more than two months of thwarted offensives, Putin is left with limited options.
Ukraine's mine-sniffing dog receives medal from Zelenskyy
President Volodymyr Zelenskyy presented a medal Sunday to Ukraine's famous mine-sniffing dog, Patron, and his owner to recognize their dedicated service since Russia's invasion.
The Jack Russell terrier has been credited with detecting more than 200 explosives and preventing their detonation since the start of the war, quickly becoming a canine symbol of Ukrainian patriotism.
Zelenskyy made the award at a news conference in Kyiv with Canadian Prime Minister Justin Trudeau. Patron, which, loosely translated, means "cartridge" or "bullet" in Ukrainian, barked and wagged his tail, prompting laughter from the audience. Trudeau patted his pockets as if he were looking for a dog treat.
"Today, I want to award those Ukrainian heroes who are already clearing our land of mines. And together with our heroes, a wonderful little sapper — Patron — who helps not only to neutralize explosives but also to teach our children the necessary safety rules in areas where there is a mine threat," Zelenskyy said in a statement after the ceremony.